CONTACTA CON NOSOTROS


UNAV Legal

Consultas fiscales
¿QUE ES UNAV?

INFO-LEGAL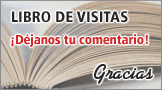 Congresos y actividades
IX CONVENCIÓN UNAV 2006 Sevilla 16-19 Marzo
Presentación | Programa | Conclusiones
PRESENTACIÓN GALILEO 2006
---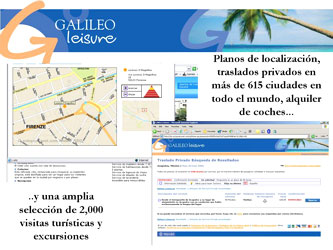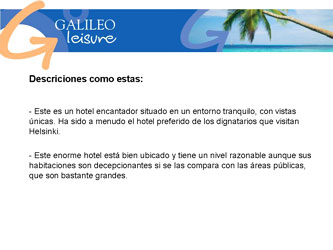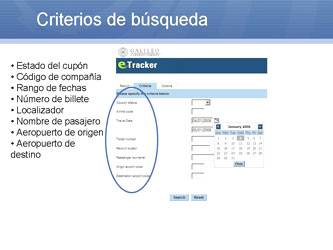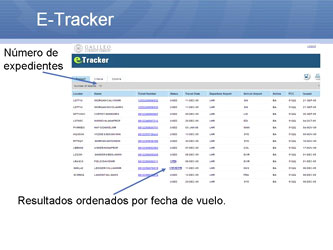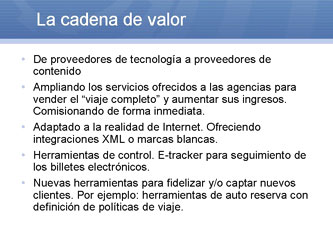 In terms of the value chain, the airline community is questioning the value of both travel agencies and GDSs in particular for simple point to point ticket sales.Lower airline fares means huge pressure on GDS booking fees.Galileo has led the GDS world in striking deals with airlines to secure their full content in the GDS at lower fees to the carrier but with some quid pro quo from the travel agency world in terms of the rebates paid.So for example in Australia with Qantas and the UK with BA, Galileo travel agencies have access to all of the fares for both carriers on an opt in basis.The travel agency elects to give up some of its productivity rebates in exchange for being to access full content and to have content parity with the web sites of BA and Qantas.In other cases, Galileo has done deals with some of the major carriers to reduce our fees so that our travel agencies can access key functionality which they could not previously.
There is another aspect to the point to point air ticket debate which is even more important and that is the consumer – the industry has to start selling the trip and the experience whether it is business or leisure and not just the mechanical aspects of driving an airline ticket.Adding value by offering and booking transfers, sight seeing, information on the city to be visited etc and wrapping this up into one trip price is going to be how to keep your customers coming back for more and how you can differentiate yourself against the airline on-line sites which tend to sell air tickets only.
Every airline will show a chart of declining fares and higher costs – whether it is fuel or GDS fees.The solution, whilst being careful to ensure a fair price is paid, is also to work together with the established carriers to improve their yields in new and innovative ways. For example, most established airlines offer pre-flight seat assignment.Customers value this – why not start charging for it for economy class passengers?This is after all what both the charter and the Low Cost carriers do. If the passenger wants an aisle seat they can have one but it will cost €5-€10 per leg extra.Travel agencies, GDS and airline together can offer this service, capture the requests and remit the monies.In Australia we are presently working with QF and the trade since QF worked out that it was not collecting $s million in change fees for tickets activated through travel agencies.Galileo is putting in place technology with the travel agencies to capture and process these activities as well as a mechanism to collect the money.
At the same time, we realise that we will have to negotiate and are prepared to negotiate with airlines to maintain their full content in the GDS –provided it is a good deal for all three parties – GDS, travel agency and airline.A simple fee reduction for nothing in return is not on our radar
GDS rebates to travel agencies also will increasingly be less cash based as the revenue source from airlines becomes less but will be replaced by value added services and content.
Similarly in the corporate channel we will need to move more transactions to a touchless environment, hence our alliance with the european market leader KDS as well as adding into KDS access to some of the content we have now in GTA
And last but not least we will continue to invest in travel agency training since value add directly to the traveller is where all the difference and customer loyalty is generated.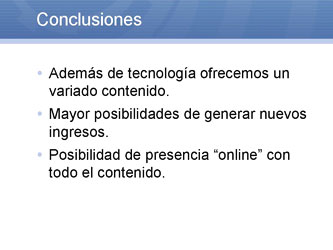 In conclusion ladies and gentlemen, the travel industry needs to start thinking and acting as a mainstream retailer.
I do not say this from a position of arrogance since in our own retail brands we have much to learn but I do say it from the point of view of survival.
It is essential that content and technology are blended to create the individual experiences that customers are demanding – having only content or only technology is not enough – you need both. Delivering the experience is what will drive customer loyalty and cause your company to be discussed at the dinner tables of …………………..
Customers want seamless travel – why stand in a queue or go on a bus which stops all over the place if you don't have to and it is surprising how many customers are willing to pay that little bit extra to save their time and feel a little special.
I truly believe that if you are a retailer and not also a travel principal, the only way to grow your business will be to add value by customisation – adding the sight seeing tour so that your client can avoid the queues – all of these elements earn revenue for your business and also make less easy for travel principals, larger on-line players and indeed the travel search engines to disintermediate you.
If there is value – value from the GDS to the airline, value from the GDS to the travel agency, value from the travel agency to the consumer, each will be prepared to pay for it
Cendant is bullish about the future of travel and travel retail and we are positioning ourselves to address the new travel demand our research indicates and we hope to work with you in a deeper way through this process.
Thank you.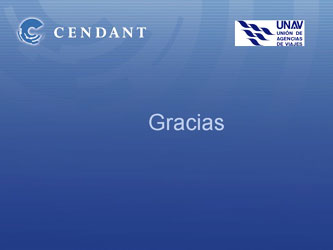 ---