CONTACTA CON NOSOTROS


UNAV Legal

Consultas fiscales
¿QUE ES UNAV?

INFO-LEGAL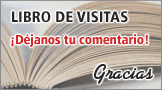 Congresos y actividades
IX CONVENCIÓN UNAV 2006 Sevilla 16-19 Marzo
Presentación | Programa | Conclusiones
PRESENTACIÓN GALILEO 2006
---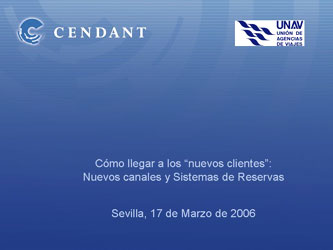 Good morning.
I was asked by …. to talk to you today about Cendant, what we are doing in the travel space as the fairly new kids on the block and where we thought travel and travel retailing is going in the future.
When talking about Cendant, I usually start with a big chart showing that we do $18bn in turnover, make profits of about $3bn, employ 60,000 people in 130 countries etc. However, I don't think this helps to establish our relevance to the audience here today and so let me try to describe some of our activities in a slightly different way.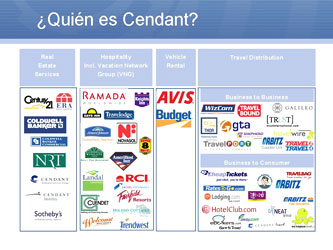 Our mission is to become the leading global travel network, and we are already a long way towards that - Cendant sells over $1bn in travel services every week. The majority of these are not sold directly by us but are sold through the travel trade, both retailers and wholesalers.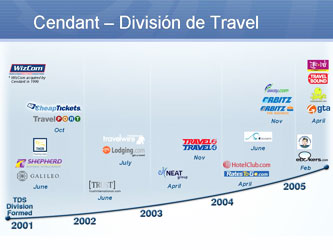 To give you a quick thumb nail of our brands:
Diversified asset portfolio offers significant scale and relevance to consumers, suppliers, corporations and agencies
Affiliated with valuable Cendant content
Geographic diversity and breadth
Liquidity and capital resources
Vertical and horizontal integration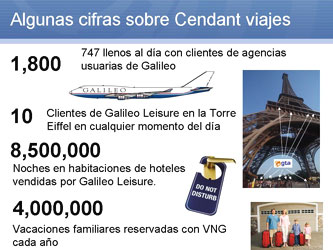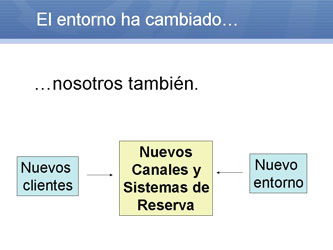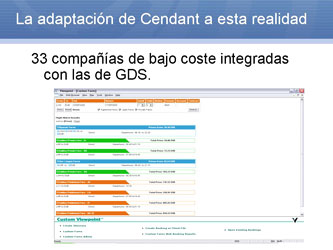 Galileo is the world leader in direct participants for LCCs in the GDS but we additionally show about 25 LCCs fares through our Custom Fares product.
This is a key area of value add both to our travel agency customers but also to their leisure and corporate customers. Most of our research shows that it is important to be able to see the fares of the LCC to check them against the established airlines but frequently the fares are not shown to be so different.
Indeed a poll of Guardian readers, one of the UKs main broadsheet newspapers actually found that amongst these individuals BA was their preferred Low Cost Airline!
With this in mind then, how does the changing world look.
First everyone is aware that reliance on commission, overrides or marketing payments from traditional sources such as selling airline tickets or tour operator pre-packed product is a game of shrinking returns. Every single supplier in this sector is seeking to sell more direct and to reduce the payments made to travel retailers.
We believe that the new world is to focus on drawing together bespoke packages or trips for your clients – taking an airfare and adding a private transfer at the arrival airport, adding to this a pre booked sight seeing tour or excursion, putting together a group itinerary for your customer.
Let me give you a real example...
The ability to book all of this and offer it as a package is available to any retail travel agency through Cendant.
One of the accusations made frequently about acquisitive companies is that they truly don't create more value from the assets they acquire. I hope to prove that Cendant is the exception to that accusation. And already I can tell you that bringing together the content in our different companies using our technology so that travel agency retailers is now very real.
We have just launched Galileo Leisure, bringing together everything that is in the Galileo GDS together with the unique hotels, private transfers, sight seeing tours, car rental deals and other exclusive content from GTA.
The product enables travel agencies in addition to the Galileo system for air, car and hotel to book 21,000 hotels where GTA has allocated contracted rooms, 3000 apartments and villas, 2500 transfer services, 1200 tailor made sight seeing tours in over 4000 cities, destination guides for all major cities. This is now live and I am pleased to say that over.........travel agencies in .......... have already signed up.
This is all about giving the trade more to retail, the ability to put together tailor made itineraries and to upsell services to the like of the indivicual traveller(s). On each item of inventory sold, commission is paid and additionally the ability to offer more value to your customer is very real.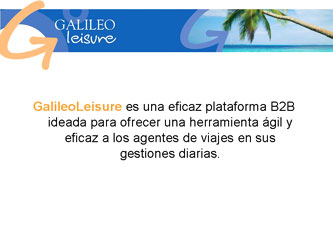 ---